FOR SALE BY ONLINE AUCTION
20.93 Acres +/- Madison County
Ideal for Executive Home Site or Future Development
Bidding Opens June 1, 2019 & Closes June 21st, 2019 @ 7pm.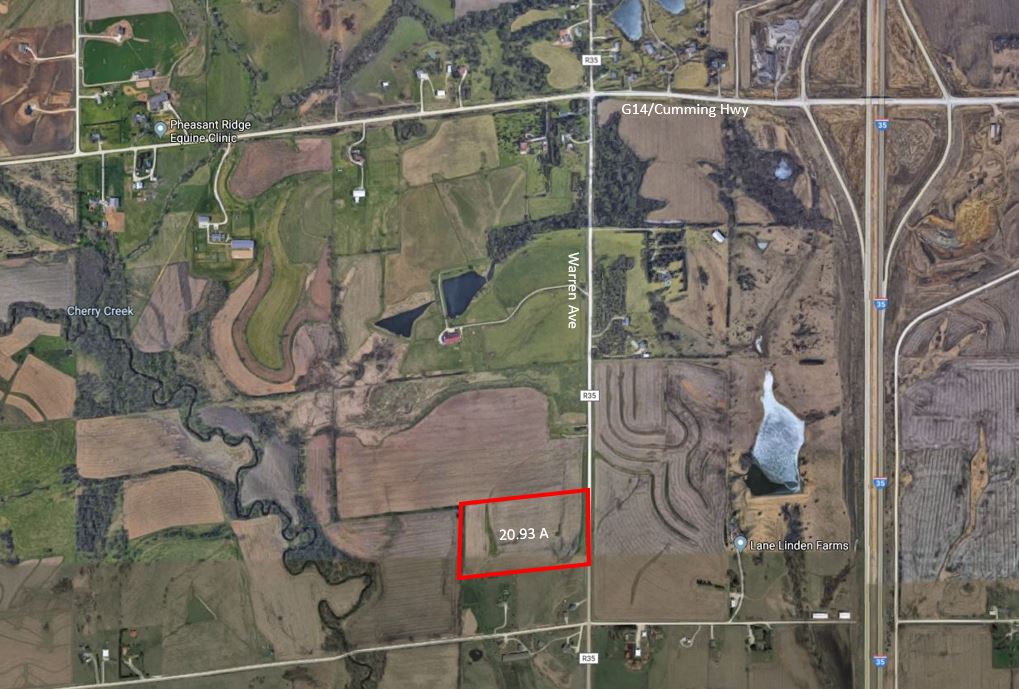 Auction Details
This will be an online auction only. 20.93 +/- Acres located on Warren Avenue just 1/2 mile south of the intersection of G14 and Warren Ave., Madison County, Iowa
Click here to register to bid.
Bidding will open on June 1, 2019 at 10am and will end with a "horse race finish" at 7pm on June 21, 2019. Any bids received in the last 5 minutes of the auction will reset the remaining auction time to 5 minutes.
Agent Comments
Great opportunity to own 20.93 +/- acres of 83.713 Average CSR2 in Madison County with potential for future development. This 20.93 acre parcel is also ideal for an executive home site with close proximity to Interstate 35 and just minutes south of West Des Moines.
Directions:
Sale Method
The parcel will be sold as a single tract of 20.93 Acres by online auction with online bidding registration required.
4% is added to the high bid to arrive at the purchase price. This will be the purchase price of the property. 5% of the purchase price will be due the day of the auction as well as winning bidder executing a purchase agreement for the winning bid amount.
Due Diligence
Interested and registered bidders may perform on-site due diligence upon emailed approval to access the site. Such requests must be made to ryan@wbrealty.com for approval.
Buyers shall be responsible for verifying information, zoning, comprehensive land use, easements and other conditions impacting the land.
Seller and Buyer will enter into a purchase agreement at the close of the auction. Buyer may choose to have property financed and inspected upon auction close, but sale is not contingent upon inspections or financing. All financing and inspections should be coordinated prior to the end of the auction. Seller will guarantee clean and marketable title for conveyance.
Legal Description
Southeast Frl 1/4 of SE 1/4 of Section 13, Township 77 North, Range 26 West of the 5th P.M., Madison County, Iowa except the south 601.39 feet thereof.
Possession
Upon closing and subject to current lease for 2019.
Closing
On or before July 21st, 2019
Lease
Property will be conveyed with farm lease for 2019. Lease payment will not be transferred to new owner.
Taxes
$588.00 annual
Other Terms and Conditions
Identification will be required to register to bid during this auction. Immediately upon conclusion of the auction the high bidder(s) will enter into a real estate contract and deposit with WB Realty Company LLC or other approved holding account the proper non-refundable earnest deposit. The Seller(s) will provide a current abstract or other title conveyance instrument at their own expense. The sale is not contingent upon buyer financing, all bids are cash bids. Buyer may elect to have financing for the purchase, but the sale is not contingent on such financing.This sale is subject to all easements, covenants, leases, and restrictions of record. Buyers must do their due diligence prior to bidding. All property is sold on an "As is – Where is" basis with no warranties or guarantees, expressed or implied, made by the Brokerage or Seller unless specifically stated. The seller reserves the right to accept or reject any and all bids. The successful bidder(s) acknowledges that they are representing themselves or have hired representation using their own financial means to complete the auction sales transaction. WB Realty Co. may accept absentee, phone or Internet bids from bidders who can not attend the online auction or bid on behalf of the seller to advance toward any reserve until the reserve is achieved.